The Fallen Star Knife Left Handed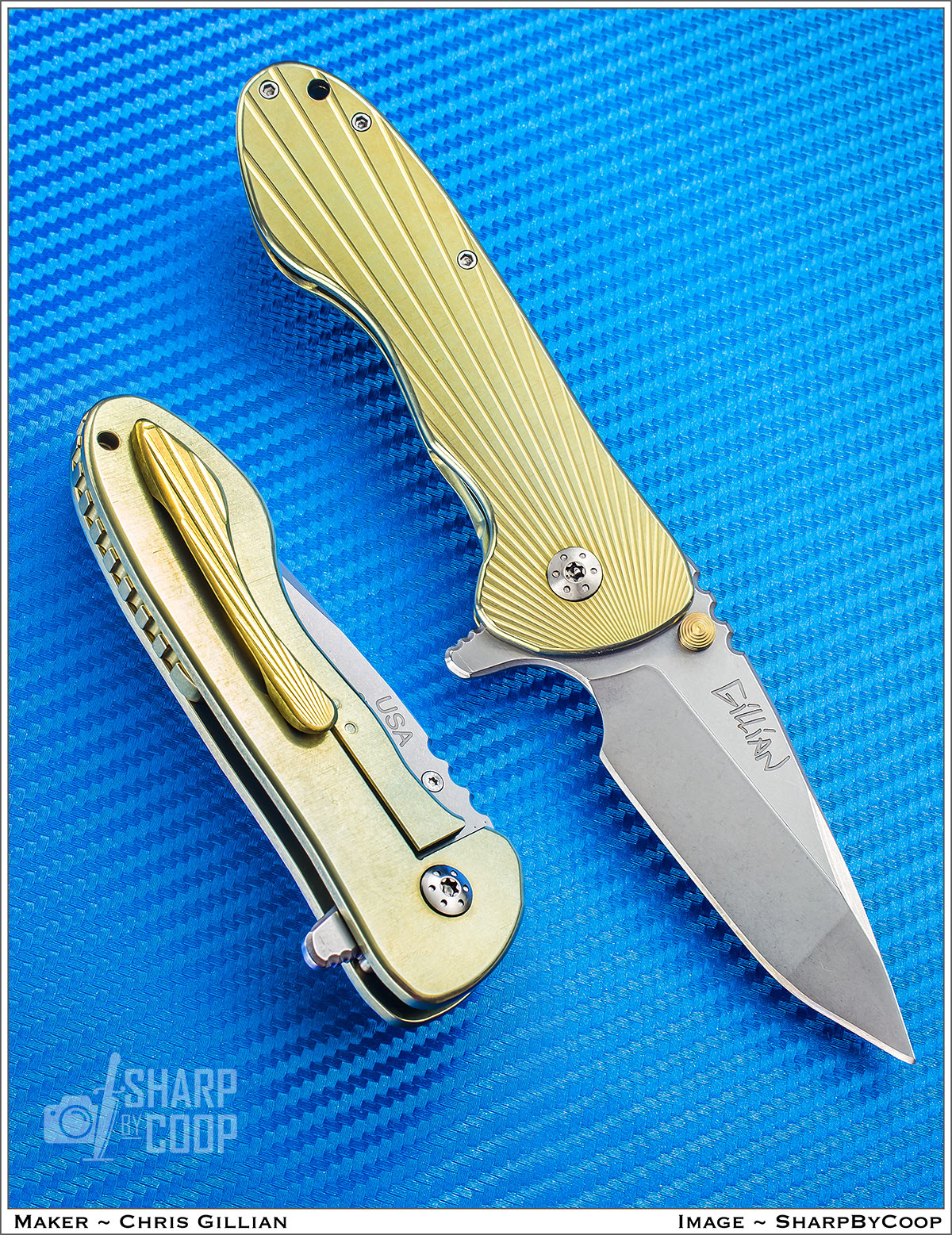 This pocket knife for sale is a Titanium Frame Lock Flipper, designed for fast, one handed opening, tip up, Left-handed carry. The Spanto style blade is made from CTS-XHP (American made Stainless Steel), heat treated to Rockwell hardness of 60+, and stonewashed finish.
The blade locks up solid, flips easily on caged bearings, and centers when closed.
The strong detent, keeps the knife safely closed when carried in the pocket.
Geared back space enhances grip on the knife, and protects the cutting edge from loose coins in the pocket.
This knife was designed to be a true lefty, carried in the left pocket. It is a durable, functional, quality every day carry knife, with a bit of artistic signature.
Features include "Fallen Star" milled titanium textured surface, milled titanium pocket clip, and titanium hardware.
OAL 8.125"

Closed Length 4.85"

Blade Length 3.25"

Sharpened cutting edge 3"

Stainless Tool Steel blade Thickness .150"

Gillian's Caged Salt-N-Pepper Bearings (Ceramic SI3N4 & Zirconia)

Lightweight 5.35 ounces.

Frame Lock 6AL-4V Aerospace grade Titanium

Engraved Serial Numbers, Date, and Month Inside Handle

6AL-4V Titanium Thumb-stud and Pivot Screw

Locking-bar spring protected from Over-Travel

Lock-bar Insert made from CTS-XHP (63HRC)

NFC Certificate of Authenticity

Ownership verified by BlockChain

Lanyard Hole for 550 paracord

Hidden Detent Ball Hole

100% Made in the USA
All Left-Handed Knives are built to order, current lead times are 6 to 7 weeks. Please contact by email, for expected delivery date.
First of all, if you don't own a true left handed knife you are missing out. There truly is a remarkable difference! This is a very fine knife. The action is superb and the sound, well, that might be my favorite part, it's a very solid lock up and close with a sound like no other. Still breaking it in so I would describe the action as very smooth. The anodization is very deep and rich looking. The machining of the falling star pattern or rays is gorgeous, utterly smooth, and goes down to very fine tight spacing. It is echoed on the clip. The hardware is of the highest order. The grinds on the blade are very fine There is a very subtle stonewashed or working finish overall. It is not at all obtrusive and is pleasing to look at; mine causes a very faint sparkle that I haven't noticed anywhere else. The lanyard is LONG but it somehow fits the knife and doesn't get in the way; I would definitely get one. You will really appreciate closing the knife; a knife with just it's clip switched just doesn't compare. Very fine I'm so glad I made the investment.